Junior Member
Join Date: Dec 2016
Posts: 2
Mentioned: 0 Post(s)
Tagged: 0 Thread(s)
Quoted: 0 Post(s)
(Thread Starter)
Honda 700-4, 1000-3, or Ranger 570 Fullsize
---
I'm new to the forum. I currently have a 2015 Polaris Ranger 570 full size with 5700 miles on it. I have had a lot of problems with this thing since I have owned it. I primarily use it to check crops on the farm and check and feed cattle. Not really a trail rider, so feel like I'm pretty easy on it. I need something that can haul a total of 3 people at a time. This means I would be looking at the Pioneer 700-4, or the Pioneer 1000-3. The 700-4, looks like it might be a bit of a nuisance to haul 3 people very often, especially since I would want a fully enclosed hard cab due to the cold weather I'm riding in many times. Which machine am I going to be happiest with? Is a Pioneer going to be more reliable than my current Ranger 570 full size? Is there a reason to wait and get a 2017 model over the current 2016 models that all the dealers are pushing? I can't seem to findout out if there are any improvements on the 2017 models over the 2016 models. Thanks for any input anyone can give me. I look forward to reading in this forum as I move ahead.
Member
Join Date: Jun 2015
Posts: 38
Mentioned: 0 Post(s)
Tagged: 0 Thread(s)
Quoted: 11 Post(s)
Latest problem with the Pioneer 1000. This had less than a tank of gas run through it. One more to add to the long list.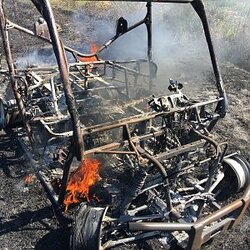 Super Moderator
Join Date: Aug 2013
Location: South Dakota
Posts: 2,219
Mentioned: 38 Post(s)
Tagged: 1 Thread(s)
Quoted: 199 Post(s)
I would like to hear the story on that one. Must be a little to it since it's the first I've seen burnt down.

Kansas, I would go after the 1000 for what you want and I think the 17 model will have some tweaks to make it perform better/more reliable. The only thing I have heard so far was a smoother clutch engagement from a stop but I'm sure there are a few secret updates honda has done.


Sent from my SM-G935V using Tapatalk
Member
Join Date: Jun 2015
Posts: 38
Mentioned: 0 Post(s)
Tagged: 0 Thread(s)
Quoted: 11 Post(s)
That is the second one I have read about burning.
Super Moderator
Join Date: Aug 2013
Location: South Dakota
Posts: 2,219
Mentioned: 38 Post(s)
Tagged: 1 Thread(s)
Quoted: 199 Post(s)
Did you hear of a cause of it? Just curious if it was debris against the exhaust, possibly a blanket against it if they was trying to use it as a heat shield or something to watch out for. Getting the truth if you don't personally know them might be a challenge, you don't really want to post that stuff with insurance and most likely lawsuits.

Sent from my SM-G935V using Tapatalk
Posting Rules

You may not post new threads

You may not post replies

You may not post attachments

You may not edit your posts

---

HTML code is Off

---