2018 Honda Pioneer 1000-3
YEAH!!! 50 degrees T shirt weather. YES!
.
Today
1) Installed Hillbilly brake
- 1.5) to nice out, had to ride around for awhile
2) Installed Secondary battery
- 2.5) cousins came over, so had to give rides. You know how it is,..... like they twisted my arm. hahaha!
3) Installed Dual Battery Isolator
- 3.5) ride around again. Tanya, our German Sheppard, was all sad because she didn't ride earlier, so I had to.
.
1) Hillbilly brake
I had read somewhere that it would be easier to assemble, if you glued the flat washer to the nut.
I used silicone, and stuck them together a few days ago. Worked great, I highly recommend it.
Only having to hold one item with the tip of my finger, instead of 2 made it easy.
Parking / Hill brake for the Honda Pioneer 1000 (All Years/Models). This easily installed brake unit holds the vehicle brakes on when parking on a slope or incline to keep the vehicle weight from binding the transmission. Works great to help prevent movement while trailing your Pioneer or using...
www.hillbillybrake.com
.
.
.
2) Secondary battery
Fit perfectly in the hole. Even though the positive ends up being to the far left, it works out.
It was nice of Honda to add the second ground wire under the hood. Made aux. battery hookup easy.
Rewired my winch to run off of this, instead of the main battery
Buy ML26-12 12V 26AH Replacement Battery for UB12260-ER: 12V - Amazon.com ✓ FREE DELIVERY possible on eligible purchases
.
.
3) Dual battery isolator
Buy Ampper 12V 140Amp Dual Battery Isolator, Battery Voltage Sensitive Relay (VSR) Smart Battery Isolator for Car, Vehicle, RV, ATV, UTV and Boat: Battery Switches - Amazon.com ✓ FREE DELIVERY possible on eligible purchases
Here is just a quick schematic of how I hooked it up.
.
Still have more to install come spring. Things have to wait, if you do not have a garage to work in.
The fun is gonna be the dash panel and switches.
I have everything on hand to do it, just need some warm weather.
The dash panel, I got from Crossroads, and I chose option B.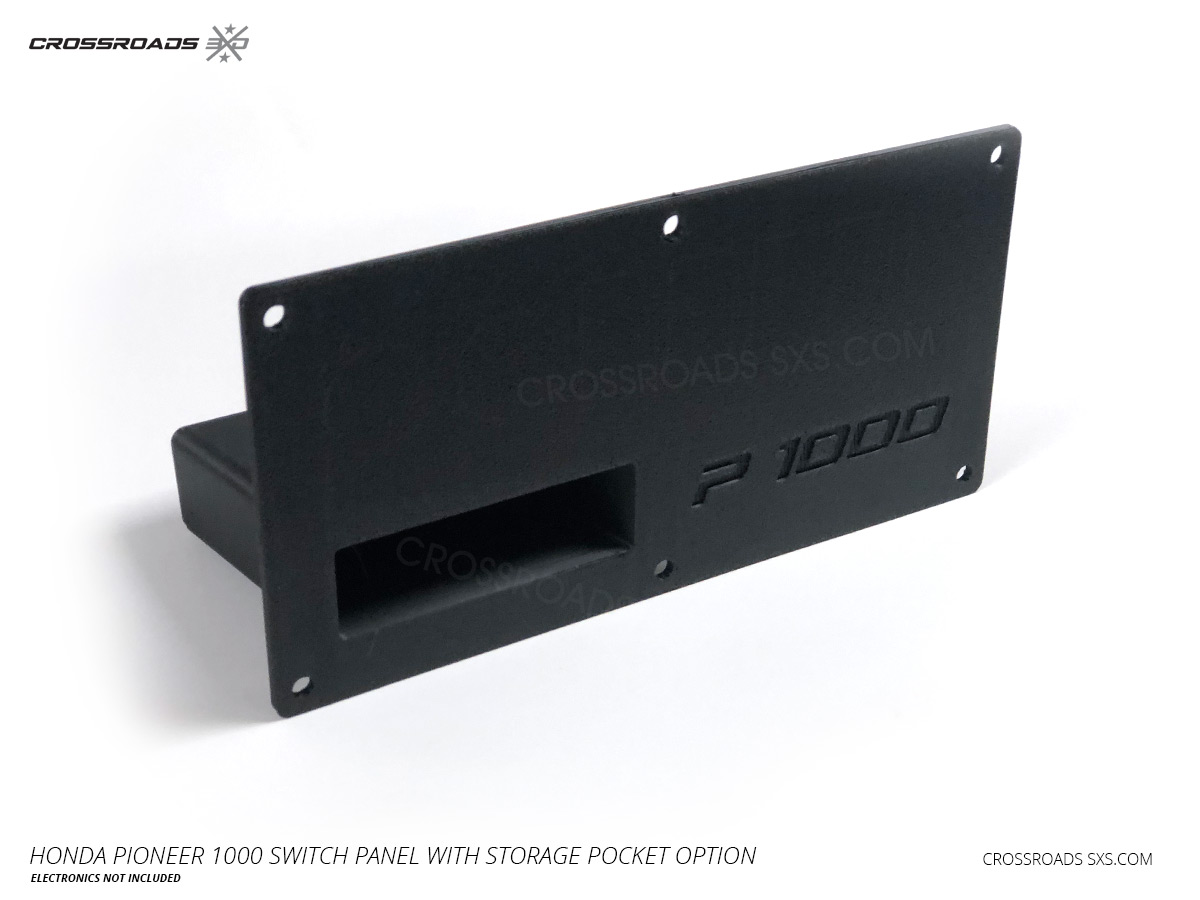 This Pioneer 1000 electronics/switch panel holds standard sized rocker switches and USB/voltage meter mounting. This panel comes with all slots "closed" with removable "knockouts."
crossroads3d.com
.
Testing out the panel
.
Finally,
Switch panel install
.
Have a good day