Discussion Starter
·
#1
·
I installed a 3500# Runva winch I purchased from Ontario Canada through Ebay seller "canadianwinchexpert". I paid $150 cn and it was delivered for $30. It is all metal construction and has warn bolt pattern. The reviews I read were good and it runs very quiet and smooth. It comes with a snatch block, shackle and tow strap in case I ever need to double the pulling capacity. I purchased the winch mount from KFI.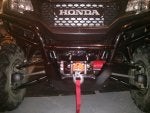 I mounted the solenoid in this location under the hood, it is out of the way, high and dry, and easy to work on. The wires were exactly long
enough to reach here from the battery.
I decided to purchase a wireless remote instead of installing the rocker switch on the dash, I just couldn't find a place I liked. This way I will have the wireless key fob, wireless remote and hard wired remote that came with the winch in case the wireless stops working.
I am very happy with the purchase and it should work for the occasional use I will need. I see they have the $4500# winch on sale right now for $150 ,figures they would go on sale after I bought one.
Here is the link to the seller if anyone else is interested
canadawinchexpert on eBay