2018 Honda Pioneer 1000-3
I never did an intro, just jumped in and started answering questions where I could.
.
so, Howdy from Northern Iowa,
.
Bought "Wild Blue", 19OCT2021, a 2018 Honda Pioneer 1000EPS 3 seater, warn winch and 72" moose snow plow.
Member as of Jan 23, 2022.
.
Have already added backup lights, using the handy plug under the bed, just behind the cab.
I did go one step further with that switched hot wire though. I ran a wire from it, up the driver rear ROPS, to power the switch, to the flasher unit that runs the side warning lights. I added reflective flashing amber lights to both top sides of the roof. Will they get ripped off in my woods? haha probably, but when I am plowing snow, people will be able to see me from the sides.
.
edit to add
YEP, haha! my daughter got to close to a tree and ripped off the right light.
.
SuperATV flip windshield installed and created my own side door windows.
Read somewhere about using a shower curtain for the rear window, and that works good also.
My cheap cab enclosure. It actually turned out better then I thought it would. Inspired by: . . 3 yards of 20 gauge clear vinyl for the side doors https://www.amazon.com/dp/B00OZ4ORCY?psc=1&ref=ppx_yo2_dt_b_product_details 6" ball bungee...
www.hondapioneerforum.com
.
My seatbelt location fix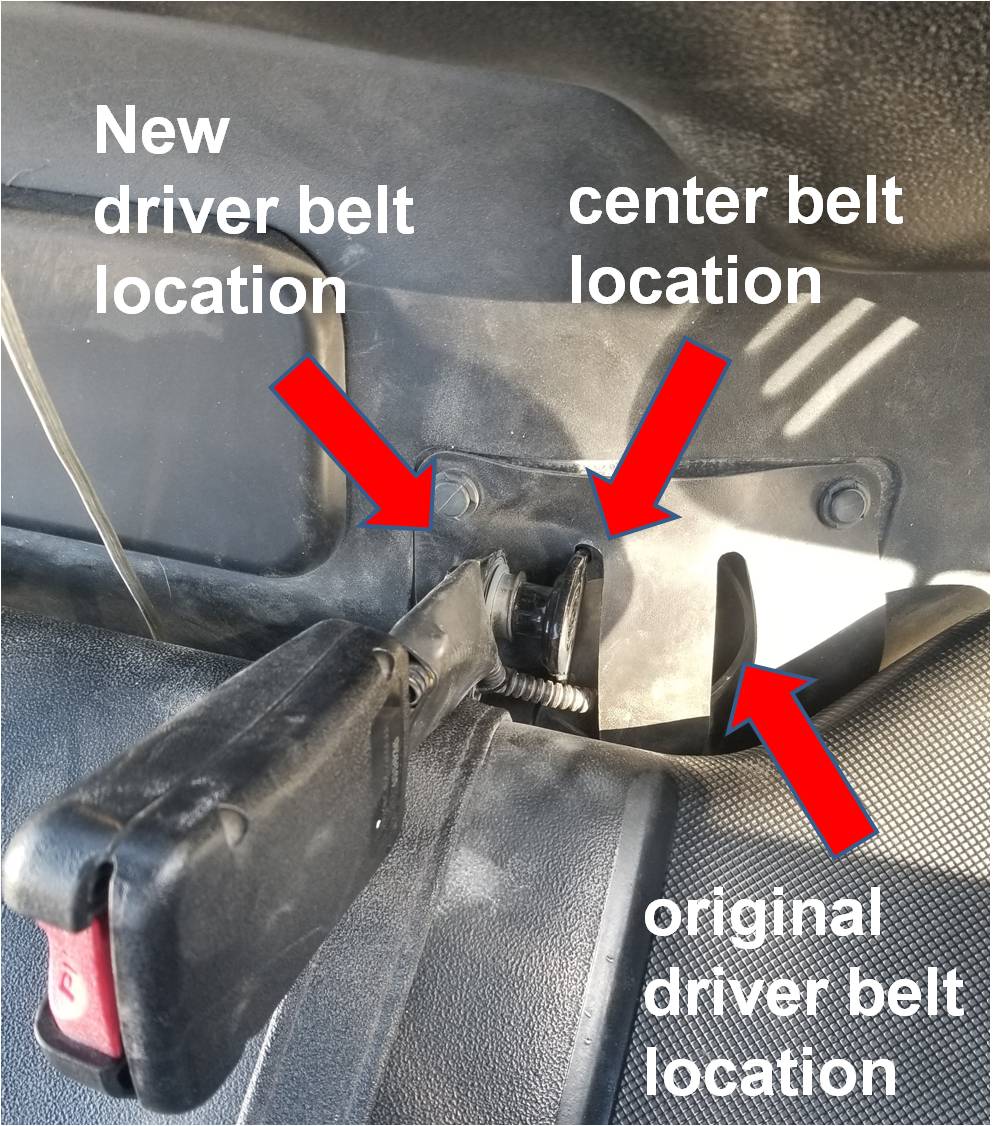 I moved the driver seat belt latch location. We do not ride with anyone in the middle seat, so no problems with removing the middle. I had first moved it over to the middle seat position, and that was better, but not good enough. I wear overalls. Hanging off my left side is my sidearm and in my...
www.hondapioneerforum.com
.
I have 40 Acres if any of you that are close to me need a place to ride some short trails through some woods.
Hunters, Riders or Walkers | our40acres
If you look at my website, you can see the trails that are on my 40 Acres. I do need to update the map though. My nephew got the mowing bug and started making more trails.
.
About me...
20 years Army, Retired in 2007.
Been a mechanic my whole life. I used to tell my Soldiers that there is only (electrical, mechanical, or hydraulic) once you figure out the basics, you can work on anything.
Work for a local trucking company, as a, yep! you guessed it, a mechanic. haha
Wife, 4 children. 2 finished college, 1 still in High School.
Bought my 40 Acres from my parents in 1996, 10 years before I retired from the service.
I grew up on this farm, and I knew I was coming back here to live.
.
edit to add a link to my DIY/How to posts
I have posted a few DIY threads and want them linked all in one thread. Nice thing is, I can edit and add to this anytime I add a new one. . Here goes . 27Jan2022 My Cheap Winter Cab Enclosure Driver seat belt location change . 03Mar2022 Not a new member, but never did an intro . 19Mar2022...
www.hondapioneerforum.com
.
Mark Schmidt
and pics
.
.
.
.
40Acres short trail ride with Tonya
.